Cisco Might Not Survive Another Crisis
Market crashes and economic crises come and go and the markets eventually recover.
The dot-com bubble burst some 16 years ago, but NASDAQ is currently trading at all-time highs. The Great Recession of 2007-2009 left the financial world in ruins, but the
Dow Jones Industrial Average
is now flying above 18 550.
And while the broad market survives, some companies, unfortunately, do not.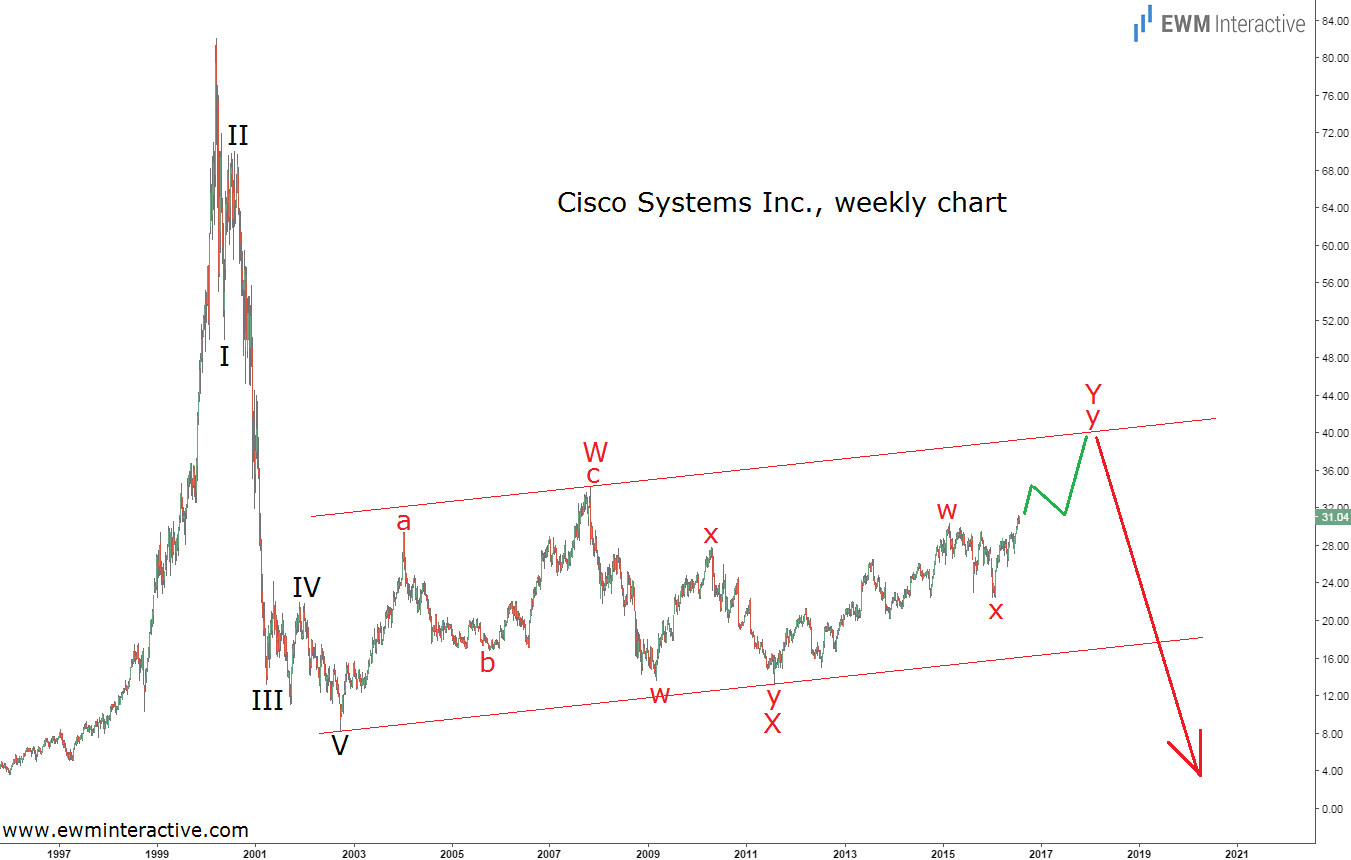 Enron, WorldCom and Lehman Brothers, just to name a few. Cisco Systems Inc (NASDAQ:
CSCO
), on the other hand, is one of the companies, which could brag about surviving through the last two major stock market crashes. The next chart, however, suggests it is no time for bragging.
Investing. Com
Are Negative Rates Backfiring? Here's Some Early Evidence
Two years ago, the European Central Bank cut interest rates below zero to encourage people such as Heike Hofmann, who sells fruits and vegetables in this small city, to spend more.
Tammer Kamel over at Quandl recently wrote a great piece on the transience of alpha in markets. In it he covers innovations throughout the years that produced alpha for investors. He explains how none of these advantages persisted because of the "inevitability of diffusion". Eventually others got access to the information or technology that produced the alpha and nullified it.
The pre-1930's had robber baron-esque investors planting moles in the government left and right. This gave them a heads up on any large government purchases or sales coming down the pipeline.
Surrounded by shirts and pants—the closet is more convenient than his basement office—Hart, 44, talks to Hong Kong, parsing the latest numbers and the scuttlebutt from Beijing and Shanghai. In the seven years since this all started, he might as well have learned Mandarin. (All three of his children speak the language now, unlike their old man.) Doggedness has cost him millions—not to mention investors, employees, and, at times, damn near his sanity. But he won't, or maybe can't, let go now.


U.S. Adds 255,000 Jobs in July; Unemployment Rate Steady at 4.9%
U.S. employers hired at a steady pace in July, a sign of underlying strength for the labor market despite a host of mixed economic signals. Nonfarm payrolls rose by a seasonally adjusted 255,000 last month , the Labor Department said Friday. Revisions showed U.S. employers added 18,000 more jobs in May and June than previously estimated. The unemployment rate, calculated from a separate survey of American households, was unchanged at 4.9% in July. Economists surveyed by The Wall Street Journal had expected employers would add 179,000 jobs in July alongside an unemployment rate of 4.8%. Hiring figures have been strong for two consecutive months, though readings were choppy earlier in the year. So far in 2016 employment gains have averaged 186,000 per month, down from 229,000 per month in 2015. A slowdown wouldn't be […]