MORE PAIN EXPECTED?
"There is some uncertainty on how significant these oil credits are going to mean to the credit costs for these banks going forward," said Daniel Werner, an analyst at Chicago-based Morningstar Inc. "Investors are right to be cautious with names in the Texas and Oklahoma area. That's a fair assessment by investors until we figure out what's going on with oil."
Shorts Crowding Into Texas Banks in Bet Energy Pain Isn't Over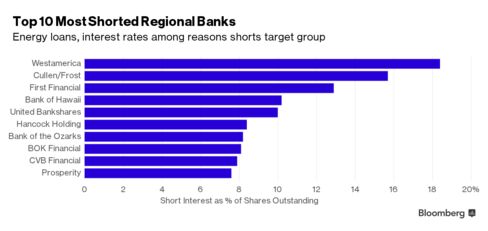 With energy stocks enjoying the biggest rebound since the beginning of the oil rout, short sellers have shifted their sights to regional banks that do business with the industry. Bearish bets have shot up 35 percent on average this year among the 10 most-shorted stocks in the KBW Regional Banking Index, data compiled by Bloomberg and Markit show. Cullen/Frost Bankers Inc. and Prosperity Bancshares Inc. in Texas have seen short interest surge about 60 percent. As oil prices plunged, concern over energy companies' ability to pay back loans drove investors to unload or bet against financial stocks judged to have the most at stake in the sector.
So far, the rebound that pushed oil to around $40 a barrel has done little to dilute that speculation. Stubbornly low interest rates are also squeezing profits in a group that trades at a premium of almost 40 percent to their larger ...
Last year was a record year for the solar industry and the momentum is set to continue. In 2016, the EIA expects the U.S. electricity market to see 26 gigawatts of new capacity installed. Utility-scale solar is expected to capture 9.5 GW of that total, or more than one-third. If that comes to pass, it would be triple the rate of installations of utility-scale solar compared to 2015, and would also equate to more than the combined total of installations from 2013 to 2015.
In addition, the FTC is asking for an injunction against VGoA. In a complaint filed in the Northern California District Court (PDF), the FTC writes, "Consumers have suffered and will continue to suffer substantial injury as a result of Defendant Volkswagen USA's violations of the FTC Act. In addition, Defendant has been unjustly enriched as a result of its unlawful acts or practices. Absent injunctive relief by this Court, Defendant is likely to continue to injure consumers, reap unjust enrichment, and harm the public interest."
What we need for this decade, instead of a Misery Index, is an Insanity Index based on measures than indicate how out of balance, crazy, unsustainable, and dangerous our current fiscal and monetary world has become.
Momentum Building Behind U.S. Wind Energy
U.S. wind energy advocates scored a second victory after the federal government gave its support to a transmission line to service the wind power sector. For the fi
rst time, the Department of Energy used authorit
y mandated by the Energy Policy Act of 2005 to foster cooperation between the private and public sectors on new electricity transmission projects by joining a line slated for the U.S. South. The development, led by Clean Line Energy Partners, is aimed at bringing up to 4,000 megawatts of power generated from wind in Oklahoma and Texas through a 705-mile power line that would serve the energy needs of up to 1.5 million homes in the region. Simon Mahan, a director for...