Buddy, what's your "Cash Break-Even"?
"Many have already used lifelines like distressed debt exchanges and hired restructuring advisers, so absent that fast rise in WTI, some defaults will be inevitable.
We estimate about $40 billion of additional outstanding energy bond debt will likely default this yea
r."
ZERO HEDGE
These Are The Energy Bonds Most
Likely To Default In The Next Six
Months
Over the past several weeks, courtesy of the jump in oil prices from 13 years lows, the narrowly reopened window granting some companies the chance to sell equity and in some cases debt (and promptly use the proceeds to repay their secured lenders), and the various last-ditch extensions afforded to near-default oil and gas companies, the dire reality of the default wave about to be unleashed in the shale patch has been swept under the rug, if only briefly.
In a recent interview with Bloomberg, Fitch's Eric Rosenthal paints a very disturbing picture: the rating agency senior director predicts that about $40 billion worth of energy debt will likely default in 2016.
Here are some of the highlights behind his forecast of a 6% default rate, the highest non-recessionary rate since 2000.
READ MORE
http://www.zerohedge.com/news/2016-03-15/these-are-energy-bonds-most-likely-default-next-six-months
Puppy House Prospecting

Don't Forget High Yield Bonds or ETFs
Brazilian pension funds last year probably had their worst annual performance since at least 2007, as liabilities rose and returns slumped in the wake of a deep political and economic crisis, an industry group said on Tuesday.
Express Scripts, a "pharmacy benefits manager" that negotiates with drugmakers on behalf of US health insurers and employers, said the average wholesale price of branded medicines, which are protected by patents, rose 16 per cent last year and was up a total of 98 per cent since 2011.
Hydraulic fracturing involves forcing a liquid (primarily water) under high pressure from a wellbore against a rock formation until it fractures. The fracture lengthens as the high-pressure liquid in the wellbore flows into the formation. This injected liquid contains a proppant, or small, solid particles (usually sand or a manmade granular solid of similar size) that fills the expanding fracture
Unpaid Subprime Car Loans Hit 20-Year High
Americans with lower credit scores are falling behind on auto payments at an alarming pace.
The rate of seriously delinquent subprime car loans soared above 5% in February, according to Fitch Ratings. That's worse than during the Great Recession and the highest level since 1996.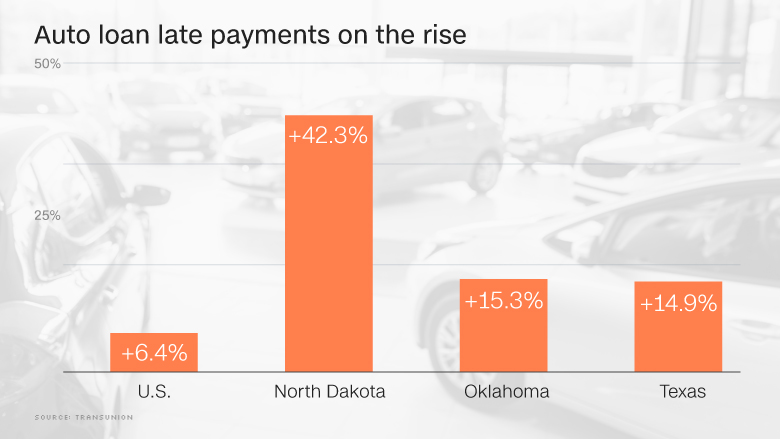 It's a surprising development given the relative health of the overall economy. Fitch blames it on a dramatic rise in loans with lax borrowing standards that have helped fuel the recent boom in auto sales. More Americans bought new cars last year than ever before and the amount of auto loans soared beyond $1 trillion.
But research conducted by a group that tracks people's credit scores, TransUnion, suggests that plummeting oil prices is a factor in rising defaults because of the flurry of pink slips in the oil industry.
READ MORE