US stock prices held steady on Wednesday as the Federal Reserve chair, Janet Yellen, again suggested there would be an interest rate increase by the end of the year, while the euro fell ahead of a Greek government vote on whether to accept tough terms for a vital third bailout.
Oil prices fell on worries of growing supply from Iran following a landmark deal that would lift sanctions that have curbed its oil sales for several years.
"If the economy evolves as we expect, economic conditions likely would make it appropriate at some point this year to raise the federal funds rate," Yellen said in a testimony prepared for a US House panel.
According to Yellen, the Federal Reserve is keeping an eye on the situation in Greece as well as the stock market turmoil in China. On Tuesday, China surpassed expectations when its gross domestic product rose by 7%.
China's economy grew an annual 7 percent in the second quarter, beating analys' forecasts, though its volatile stock markets took a sharp dive in a reminder of the threats to Beijing's efforts to direct the economy out of a slowdown.
Policymakers had already unleashed a series of measures to pull stocks out of a 30 percent nosedive and appeared to have succeeded last week, but Wednesday's tumble could reawaken concerns over the government's ability to manage the economy.
The day began on a positive note with the growth figures and monthly activity data that also beat expectations across the board, with factory output hitting a five-month high, following reports of increased bank lending on Tuesday.
As the National Bureau of Statistics released the upbeat figures, it described the stock markets as key to economic stability. As if on cue, the key indexes, already down in morning trade, fell more than 4 percent in the afternoon.
The CSI300 index eventually ended down 3.5 percent, while the Shanghai Composite Index lost 3 percent.
"Investors liquidated their positions as the GDP data failed to impress," said Steven Leung, a director at UOB Kay Hian in Hong Kong.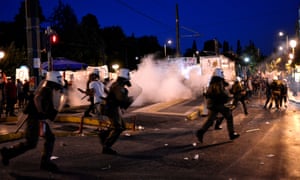 Alexis Tsipras drives through tax increases and pensions shakeup amid angry splits in his Syriza party
Five years into the worst crisis to hit their country in decades, Greek MPs voted by a large majority in the early hours of Thursday morning to accept draconian austerity as the price of further bailout funds but at great personal cost to prime minister Alexis Tsipras.
In a vote that saw tensions soar in and outside parliament, the embattled leader's radical leftist Syriza party suffered huge losses as 40 MPs revolted against the measures. A total of 229 lawmakers voted in favour of the internationally mandated measures, 64 against and six abstained.
Iranians poured onto the streets of capital Tehran after the Ramadan fast ended at sundown on Tuesday.
Iranians poured onto the streets of the capital Tehran, after the Ramadan fast ended at sundown on Tuesday to celebrate the
historic nuclear deal agreed
with world powers in Vienna.
Supporters of President Hassan Rouhani and his top negotiator, Foreign Minister Javad Zarif, waved Iranian flags from their cars, while drivers honked their car horns.
At least three thousand people also gathered along Valiasr Street near the Tajrish district of northern Tehran, singing celebratory songs while dancing and flashing victory signs.
With the signing of the agreement, people who attended the celebration said they are hopeful that the country's economy and the lives of ordinary citizens would improve.
Once sanctions are lifted in the coming months, Tehran will gain access to $100-bn in frozen assets, while opening the
country for trade.
On Wednesday, Rouhani hailed the agreement as a political victory for his country, saying the agreement meant that Iran would no longer be regarded as an international threat.
The pool of distressed U.S. corporate bonds, typically those yielding more than 10 percentage points above benchmarks, has swelled to $127 billion, from the low last year of $43.7 billion, Bank of America Merrill Lynch index data show. This month alone, Peabody Energy's $4.8 billion of bonds have fallen 14.9 percent, while Cliffs Natural Resources's $2.5 billion of notes have declined 14.6 percent.
Italy's public debt has risen to a new record of 2.2 trillion
euros ($2.4 trillion), up by 23.4 billion euros in May. The figure published by the central bank on Tuesday brought recriminations by opposition politicians against Finance Minister Pier Carlo Padoan for not bringing down the debt load, which had even at lower levels threatened a sovereign debt crisis.
That is the prediction from Ruchir Sharma, head of emerging markets at Morgan Stanley Investment Management, who says a continuation of China's slowdown in the next years may drag global economic growth below 2 percent, a threshold he views as equivalent to a world recession.